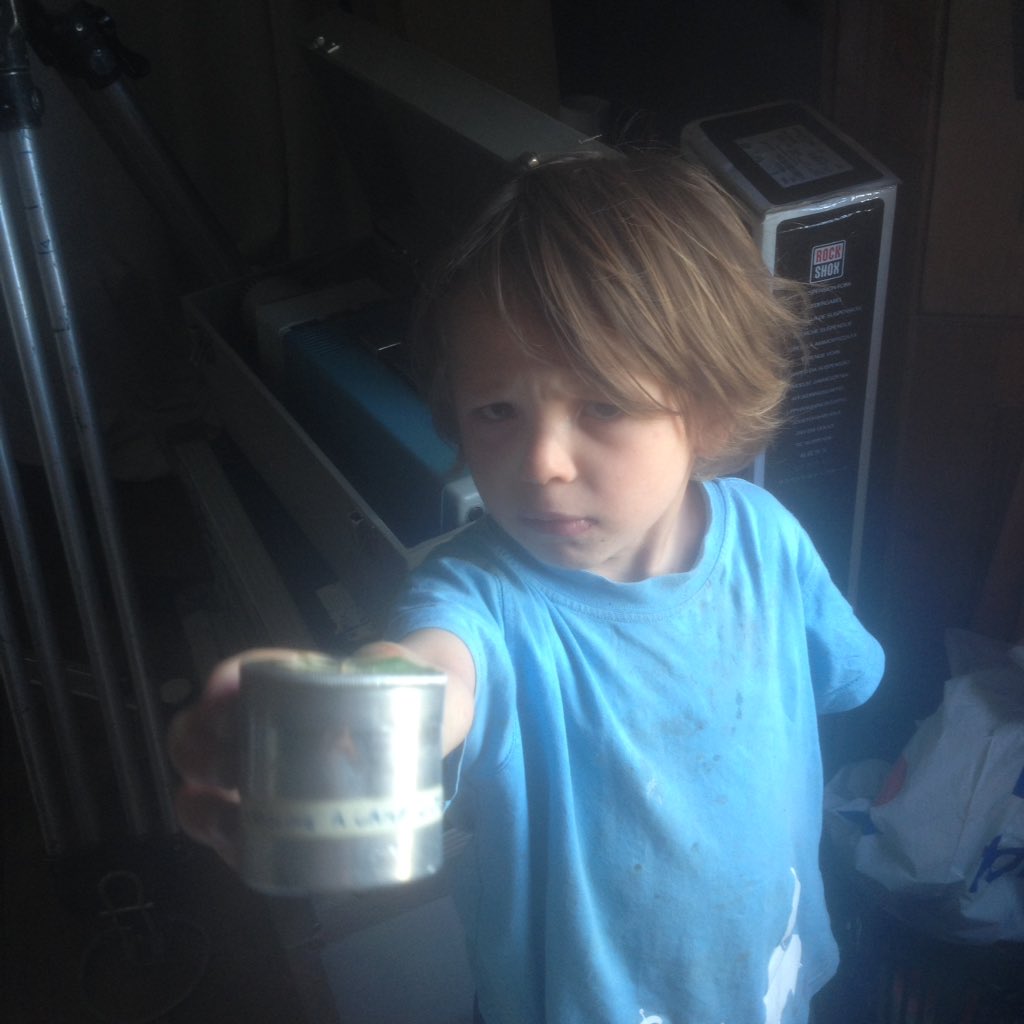 Here is the picture of the slide reel I got in the box with a Rank Tutor that I bought on eBay. Its a slide show designed to illustrate camping for the Girl Guides. When I saw it was Nitrate stock I nearly fell out of my canoe!!
Continue Reading...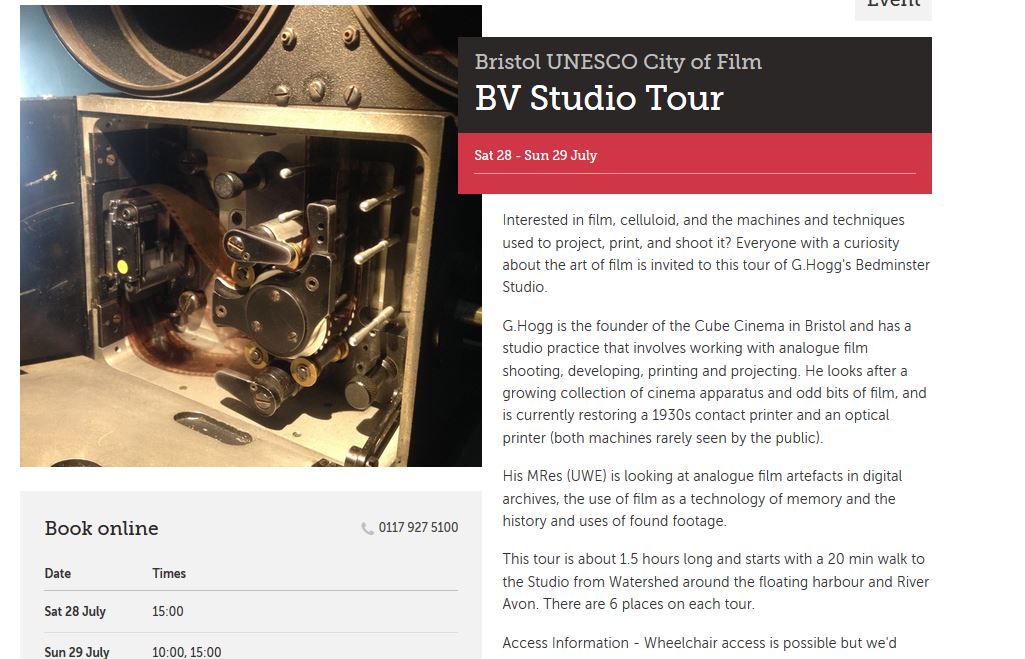 I'll be doing these studio tours during the Cinema Rediscovered Film Festival in late July at watershed (mainly). They are tours designed to verbalise what I am doing on several levels. In this regard they are also performances and presentations about ideas, processes, thinking and working collaboratively. There is an assumed 'intrigue' or 'fascination' with machines that often forms …
Continue Reading...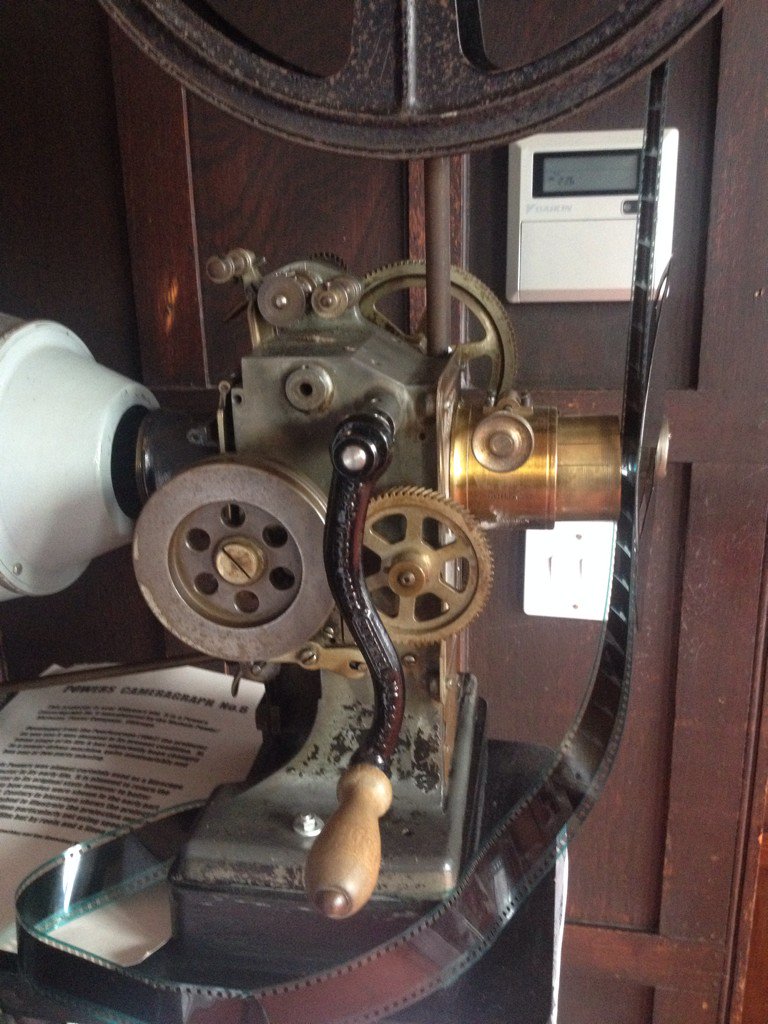 I'm really excited about getting hands on with the Curzon Cinema's (in Clevedon, England) fine collection of projectors and other Cinema apparatus. I first contacted them in 2011 about my idea of doing an 'Artists Residency' IN the collection to explore creative projects, repurposings, workshops, events and experiments that all utilise and respond in some way to the objects moving …
Continue Reading...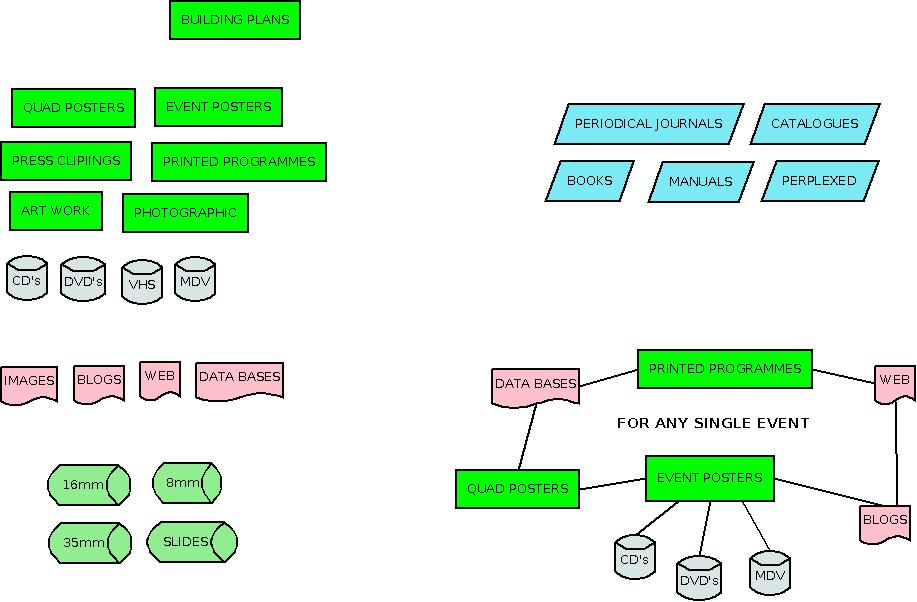 CUBE ARCHIVE This is a framework for developing an ARCHIVE at the Cube Cinema. This diagram shows different classes of unique 'objects' that all connect to the Cube, represent or document it or are just part of its hosted collection. Green oblongs are paper/print based objects. Programmes, posters, flyers, etc. Blue Trapezoids are bound books and periodicals, magazines and books. …
Continue Reading...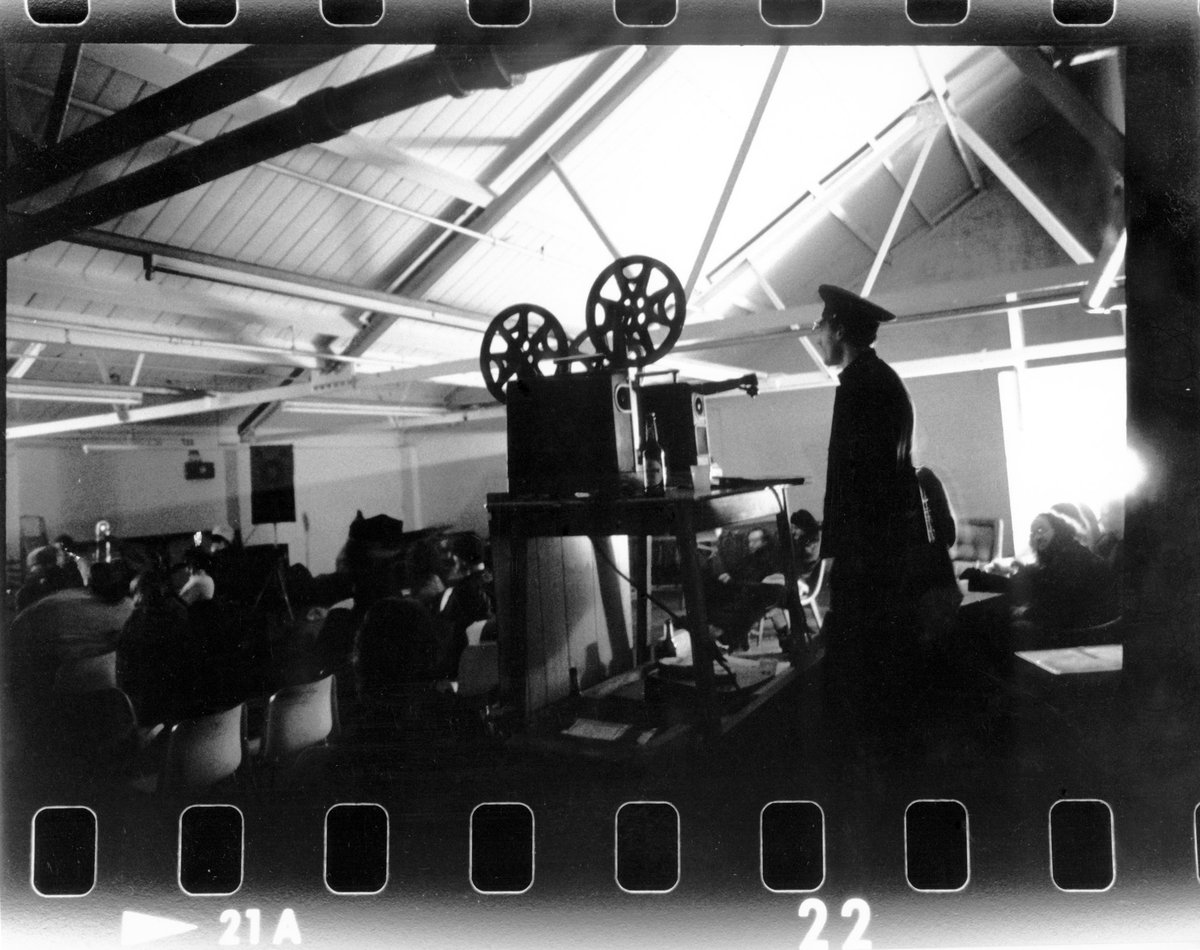 Seems like a good moment to make some documentation of club rombus. Ill make a static page then add to it. Of course all these links really do is gravitate back to the Cube. For Rombus I'm going to have to dig into the paper, fax, photocopy archives. How did we manage before the www? Well we didn't have …
Continue Reading...
Frames found under the pedastol of the Kalee21 projector we have been using at the Cube Cinema since 1998 that was recently retired to make way for some modern machines. For an 18 year period I thought this small sample of wasted, discarded, lost or just dropped frames would make a good Archeo-Cube project. So I am going to scan …
Continue Reading...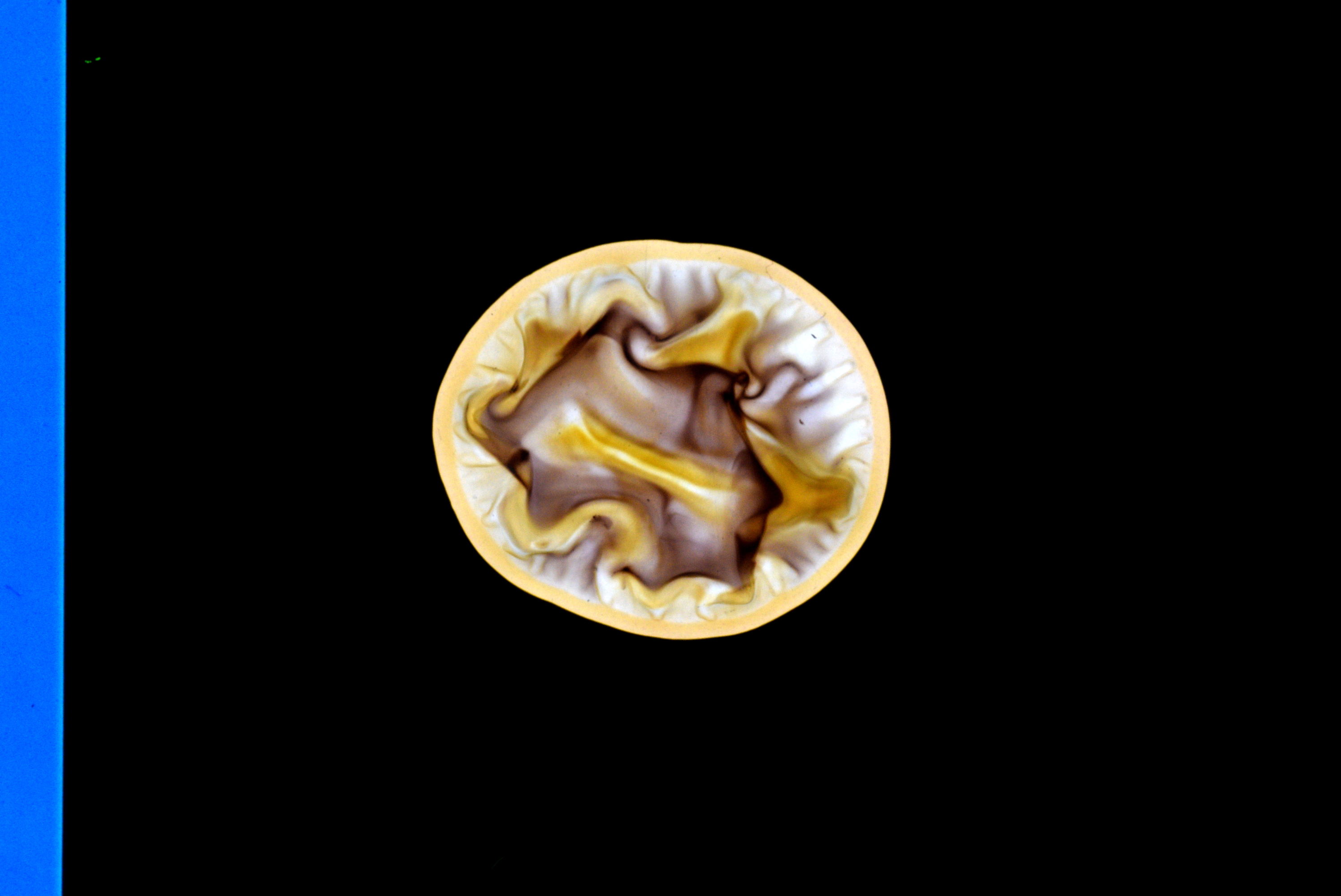 I've been doing more tests with film surface distress and a better set up to rephotograph. This frame shows the effect after only minutes exposure to the distressing agent. The circular area is about 5mm in diameter.
Continue Reading...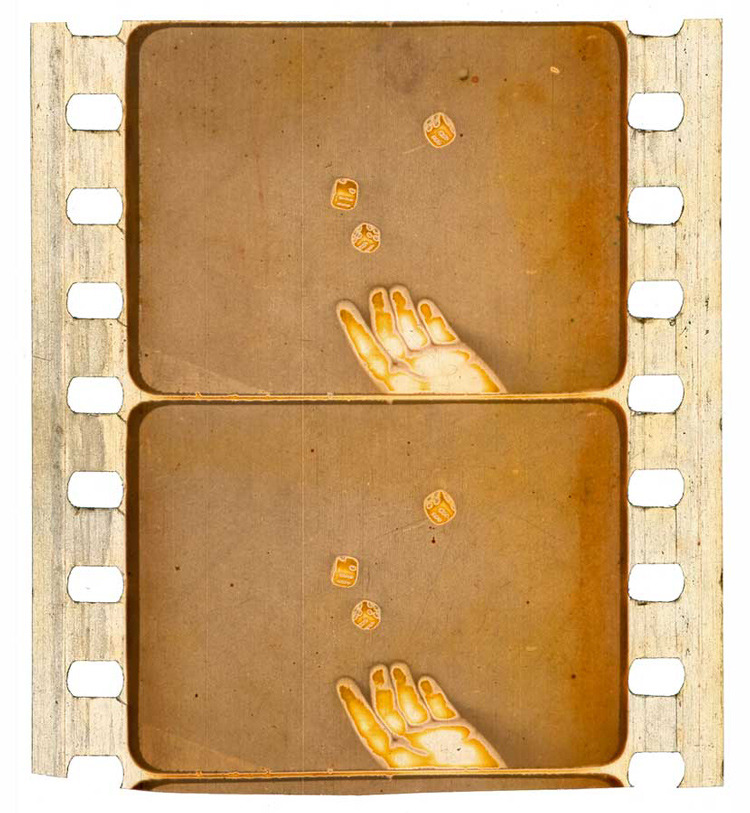 I'm asking people this question. Seeking peoples definitions in simple terms. Here I will compile the answers. If this question was "what is A cinema" we would get answers that only relate to he institution of a building and its use and this would weight the enquiry too much in one (predicatable) direction. James Reed "Film based projection" (he was …
Continue Reading...

After 17 years I finally got my 1996 film Crow / Pylon Configuration digitised. It is going to be screened at Kino-Im-Sprengel In Hannover next week. Here are some frame grabs. Back in 96 there was only Standard definition. Now though HD has really helped the case for film because I can scan the original A and B rolls of …
Continue Reading...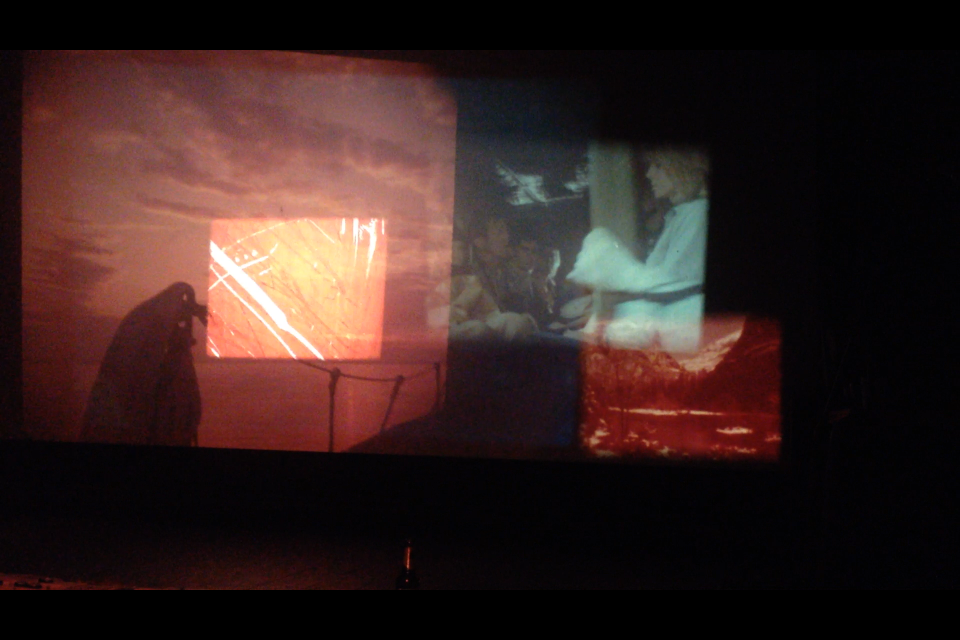 Did the 4th Film Jam at the Cube Cinema on Saturday as part of the Hendo nights that go on there. We last did film jams over 12 – 14 years ago back in the early days of the Cube. Mega thanks to Rod Maclachlan for coming and jamming.
Continue Reading...