I am an artist/film maker based now in east anglia. I have been based in Bristol between 1990-2019.
In Bristol my practice involved performance on stilts in Carnivals and I have worked in Carnivals all over the world. As an art form associated strongly with 'Circus', stilt walking had not received much creative attention by the time myself and Kevan Dennis met around 1990. Our approach was more ritual, folkloric, tribal and less literal and clown based. More recently Im developing the idea of walking the length of Orford Ness on high stilts in the guise of a scarecrow. TBC
| | |
| --- | --- |
| stilts Archive | 0 – 2021 |
| coming soon | aluminium – 1.5 meters |
After becoming too knackered to carry on dancing 6 feet above everyones heads I got into screening artists, avant-garde and experimental films eventually founding the Cube Cinema in 1998. I also made some films 1 of which you can find if you dig around this website. Dealing with film again was nice for me because originally, instead of running away to the circus, I ran away and worked in the post production industry in Soho in the 1980's. I trained there as a Rostrum cameraman and I maintained a childhood obsession with Cinema Special Photographics Effects which I'd had since watching Ray Harryhausen movies on saturday TV when I was a little kid. Later I even wrote a letter to ILM (mid star wars eera) dedicating my life to working for them. I often think about getting in touch with ILM's archive to see if that letter is there. I might write them a new one saying, 'sorry about that silly letter but can I come and see the film tests Phil Tippet run on the go-motion rig for Dragonslayer'.
During the move from analogue cinema to digital I started collecting machinery that the industry wanted to scrap. So only now, after 40 years am I actually close to realising some of my childhood dreams. Ive got some books and model kits I have had since the 1970's. One thing bothered me though. I was never interested in dinosaurs or monsters, or fantasy. I love these films and the artistry but I want to do something different. Using the whole toolbox of techniques available to analogue special photographic effects, I want to let these art forms tell me what to do! I want to see what visions, dreams, holy apparitions, spectres and shared inner worlds can be rendered visible by letting the techniques speak, like automatic writing or channeling, or mediumship, just with film, chemistry, a bit of good/bad luck and a few late nights. Like this advert but where the kid had been reading the Corpus Hermetica or works by Jacob Bohme, and taking acid or eating Fly Agaric mushrooms and doing Tarot readings for his friends at school.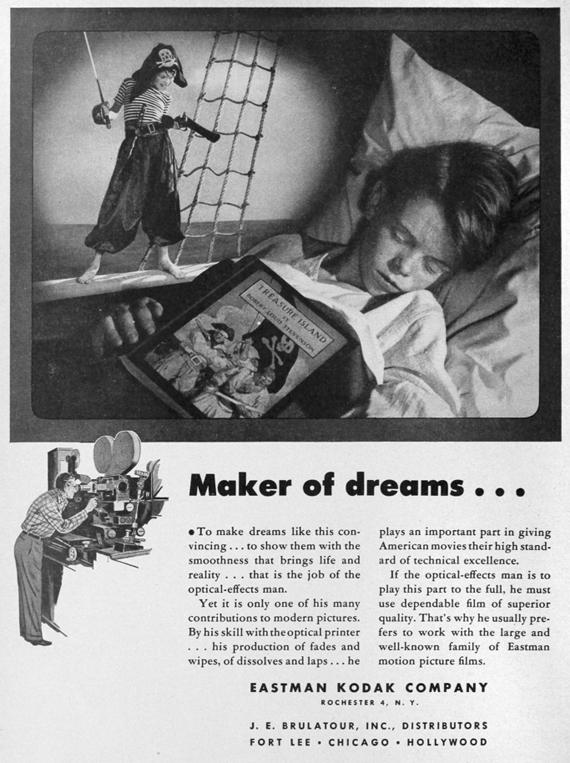 Cinema is dead. At least, it is now in its afterlife or even its reincarnation. Cinema is/was the worlds produced using the tools of analogue motion picture expression. If they are gone then so too has Cinema.
"To employ those instruments that have just been born (Colour photography and Cinematography) in order to capture and conserve the facts of the planet which are about to die" Jean Brunhes 1912 (museum Alfred Kahn)
"To employ those instruments that are about to die to capture and conserve those things which have just been born." Nachleben 2015
My project is to use the creative environment of a film lab and archive to produce, devise and develop creative projects and works of Art. By 'film lab' I mean a studio with all the necessary tools to produce motion picture works, from cameras, printers to sound equipment, recording devices and projectors. The idea of a Lab occupies the phase of film production usually called 'post-production'. For me though many creative processes are available in this phase that offer new concepts to explore.

As such it forms a kind of experimental media archaeology;

"Experimental media archaeology is inspired by the idea of historical re-enactment, acknowledging the historian's (the experimenter's) role as a co-constructor of the epistemic object. Experimental media archaeology is driven by a desire to produce experimental knowledge regarding past media usages, developments and practices. To do so it will be practical as well as philosophical, empirical as well as theoretical, conceptual as well as experimental, drawing from psychology as well sociology, ethnography as well as cultural anthropology, image theory as well as history. Lastly, experimental media archaeology has an archival drive: it aspires to use the immense collections of media apparatuses (l'appareil de base) waiting in film and other archives for further research."
Andreas Fickers and Annie van den Oever (Techne/Technology. AUP 2014)
I say a 'kind of' because my final output is not knowledge, academic knowledge or anything that sits outside of a creative action or production.
For me the purpose of a camera is to put film in it and shoot. The purpose of cinema is to screen that film. The purpose of an archive is to collect those films and others and the technologies and techniques of their realisation together to form a body that can be passed onto proceeding generations.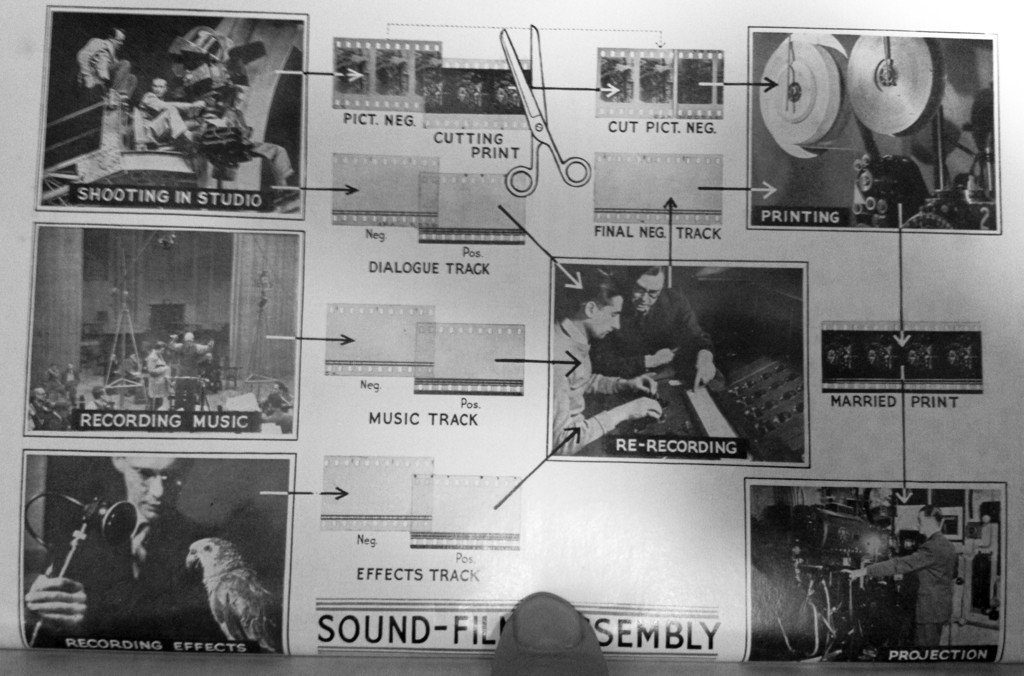 (illustration from Ernest Lindgren's 'The Art Of Film' 1948)
Although I work presently alone amidst a growing pile of machinery and other things I am really a collaborator having founded and helped develop the Cube Cinema, in Bristol. over twenty years ago.

Some preliminary AIMS of the Lab.
To make Art works.

To form a new Archive of (film based) motion picture works.

To produce works in/through/with film apparatus.

To collect, select, re-use, re-purpose existing film motion picture material to extend any of 1, 2.

To Produce a set of open and experimental guidelines, directives and plans.

To ensure works are accessible in Cinema form for Cinema presentation in a Cinema as part of 'Cinema'. (see [photograph below)


To make research tests into any related film technology apparatus and share any findings openly.

To explore digital technologies in relation to film translation and restoration.

To provide facility in Analogue Motion picture, ie Cinema for use by associated Artists and Film Makers.

To engage with, support and collaborate with any other individuals, organisations or associations or networks who have similar aims.

To start regular screenings at new studio complex in artists, avant garde, experimental and other kind of associated works.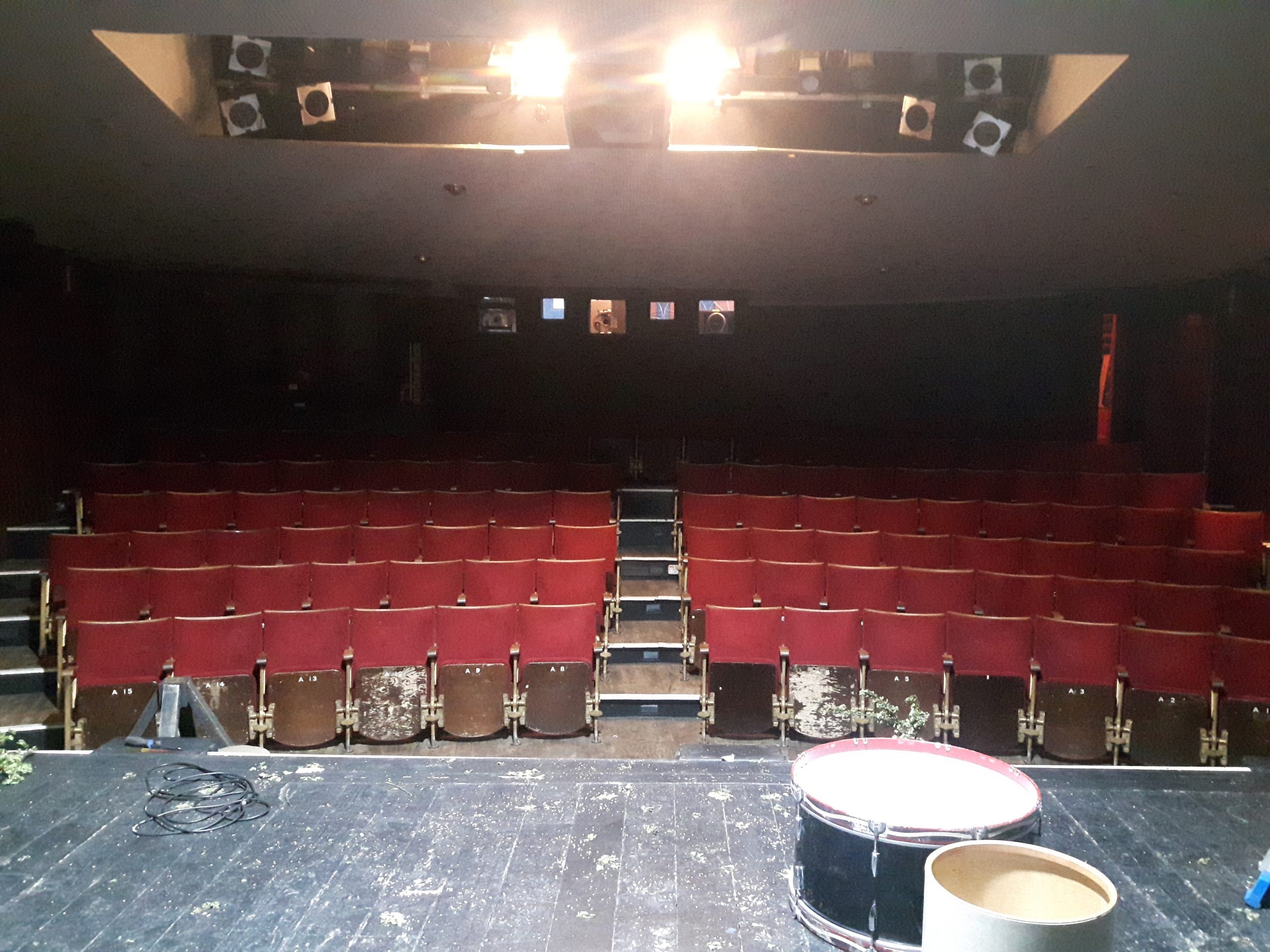 I completed a practice based and led MRes (research MA) with UWE in 2019 and my main focus was on these and other questions:
How can film as memory technology define an artists archive project? (or How / Is film a technology of memory, a set of techniques developed in order that societies might remember?)
How and why (and if) changes in the value of films takes place once they are incorporated into the establishment of a meta-archive (or once they are incorporated into an archive or that orders its parts by resembling the 'institution of their importance?)
How can it (film) 'address' the future in any specific and precise way, beyond the concrete fact that every kind of utterance and enunciation, to find a reader or subject, must address and construct the future?
If found footage use is a kind of remembering, an active type of memorialising operation what happens if footage is placed, or planted, contrived or artificial? How will it be taken up, collected, reused, remembered, altered?
_______
Heres the new space which I am happy to report is configured around 'action and production'. The last few decades have been about 'collection, acquiring and salvaging, repairing and learning'. In it I can devise, fabricate, shoot, develop, print, re-print, re-shoot, develop, project, record.