FLICKER WARNING. THE CLIPS BELOW ARE STROBOSCOPIC AND FLICKER AT RATES THAT MAY DISTURB THOSE WHO SUFFER FROM PHOTOSENSITIVE EPILEPSY. When we view a digital version of a work of early cinema our experience is notably different from when it would have been (could be) seen opto-mechanically. Of course digital viewing systems, whether DVD and CRT screen, Blu-Ray and …
Continue Reading...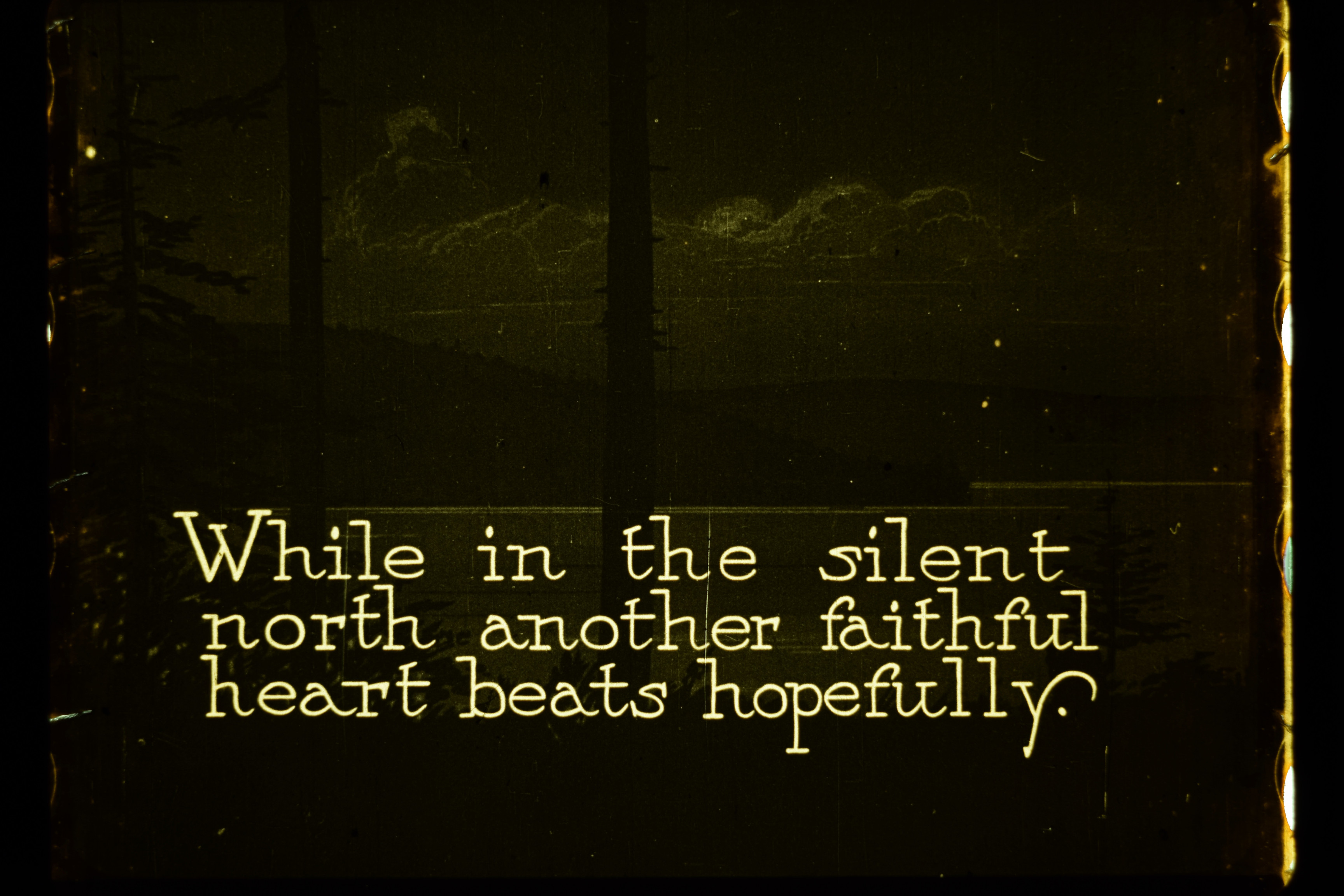 Can anyone identify this film? Just a few frame scans for some short lengths of nitrate film that were found at the Curzon Cinema in Clevedon. I'll be doing all the rest of this clip and more over the coming months. I can't hope to get accurate colour reproduction and these grabs are the best jpgs that the camera can …
Continue Reading...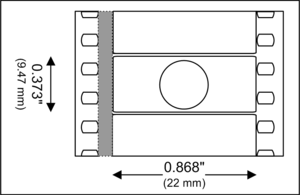 I am slightly obsessed with Vista Vision (above) and Techniscope. The former of course ran horizontally and took up 8 perforations. ILM revisited the format for Star Wars to enable a larger, non-animorphic negative to pull off their effects. But Techniscope goes the other way. Developed by the Technicolour Labs in Rome, Italy, it takes up 2 perforations. The effect …
Continue Reading...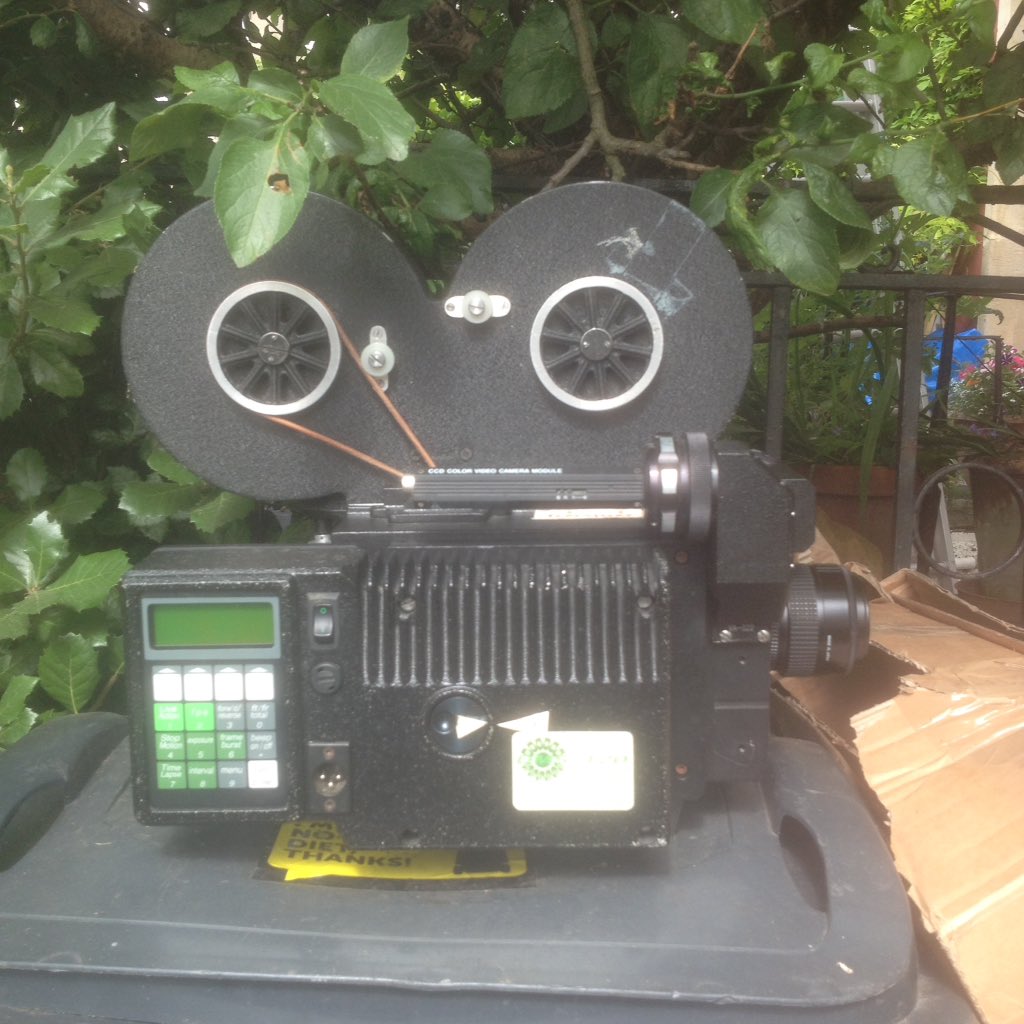 From now on all my production projects for the Archive Film Series will be made using this camera, the oxberry and small developing tanks. The specification on this Fries/Mitchell 35R camera is unbelievable. The remote controller in the picture lets you program so many ways. It can shoot 1 – 120 FPS (all at crystal locked speeds), it can shoot …
Continue Reading...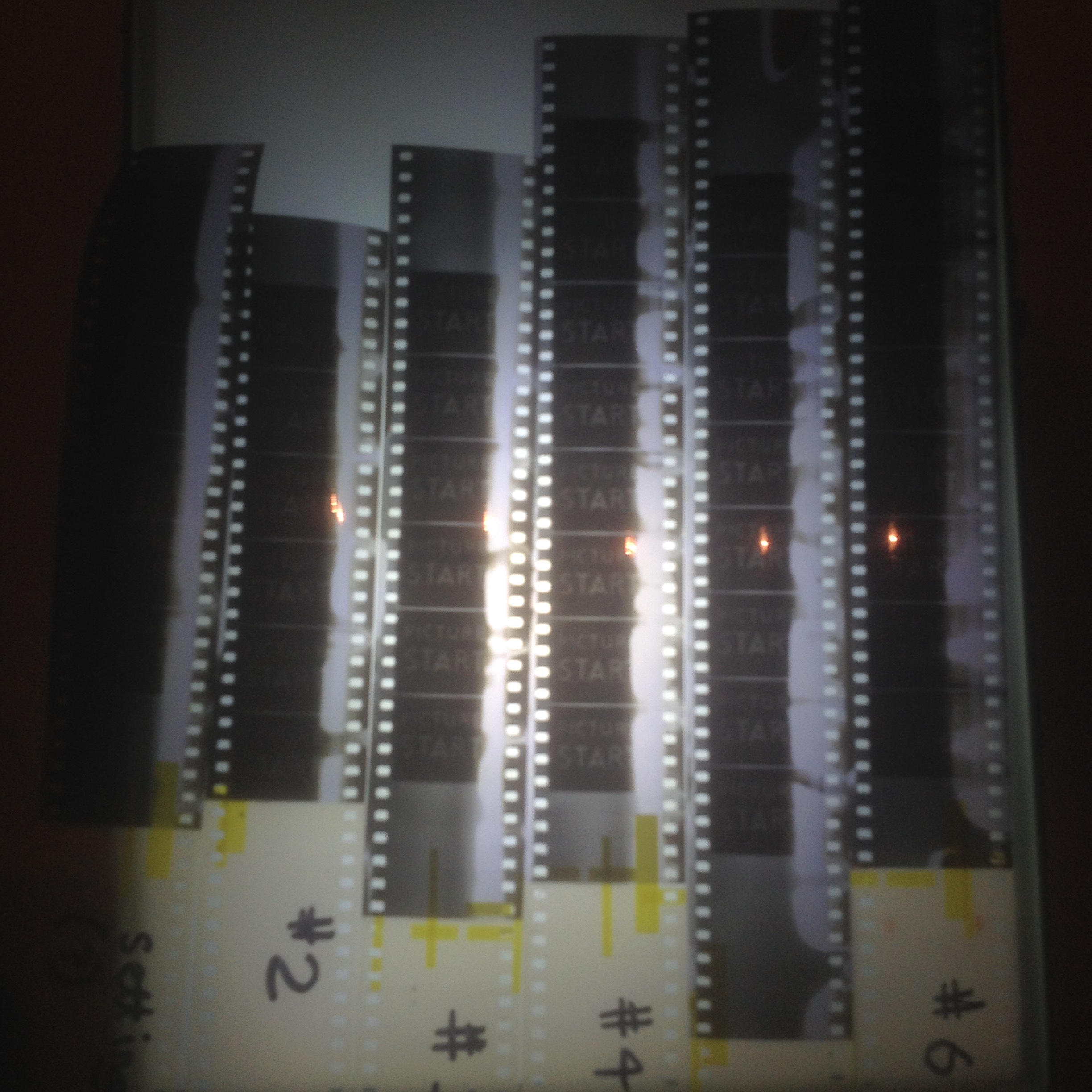 Good results from tests with oxberry, single image in gate, 35>35, halogen lamp. etc Did loads of Lux measurements in gate but there's no real guide to EV levels that are required and also the shutter speeds are not really calibrated, or even known. Also the image is sharp closed down (as you would expect) BUT super soft, un focused …
Continue Reading...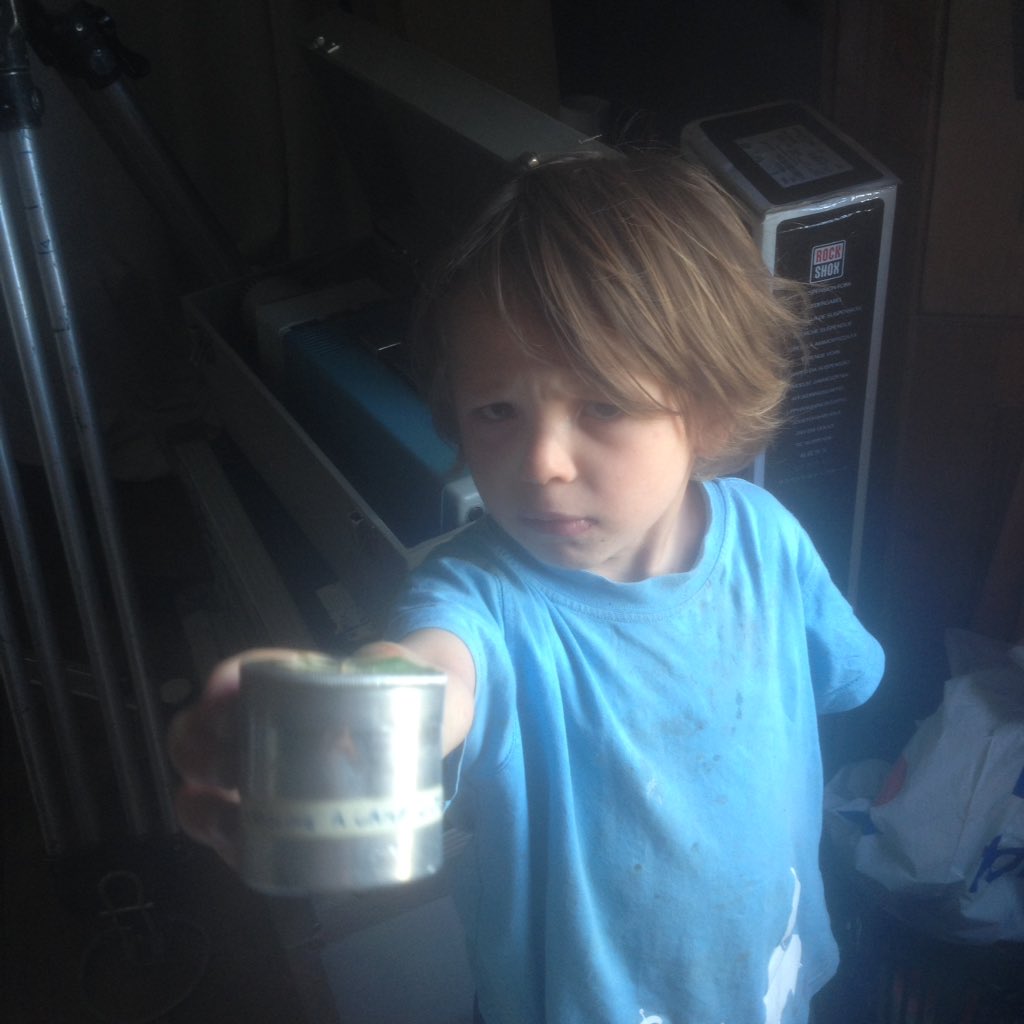 Here is the picture of the slide reel I got in the box with a Rank Tutor that I bought on eBay. Its a slide show designed to illustrate camping for the Girl Guides. When I saw it was Nitrate stock I nearly fell out of my canoe!!
Continue Reading...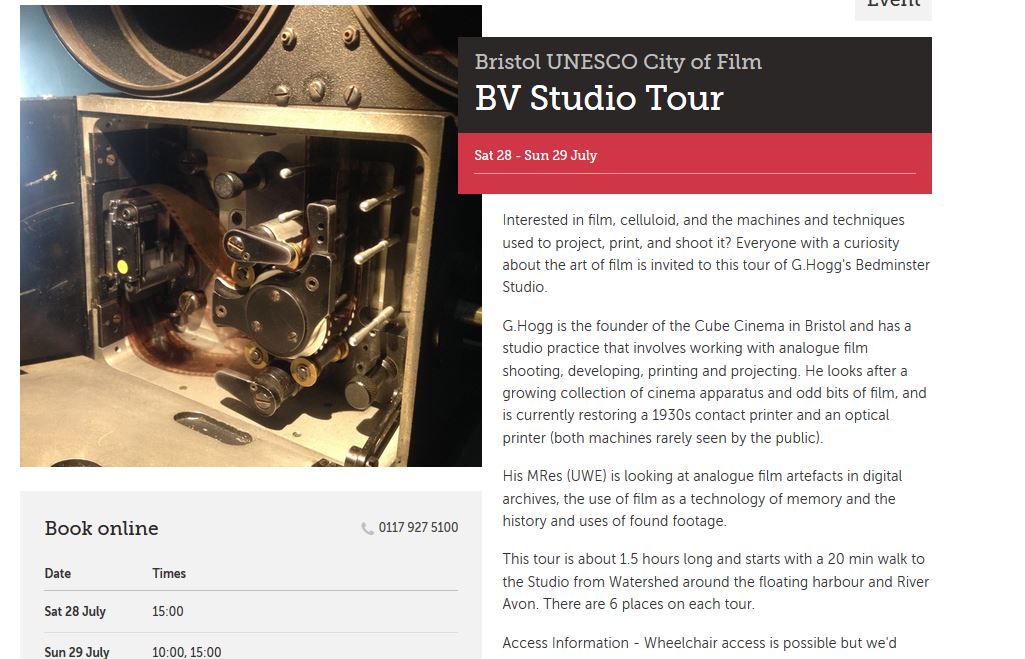 I'll be doing these studio tours during the Cinema Rediscovered Film Festival in late July at watershed (mainly). They are tours designed to verbalise what I am doing on several levels. In this regard they are also performances and presentations about ideas, processes, thinking and working collaboratively. There is an assumed 'intrigue' or 'fascination' with machines that often forms …
Continue Reading...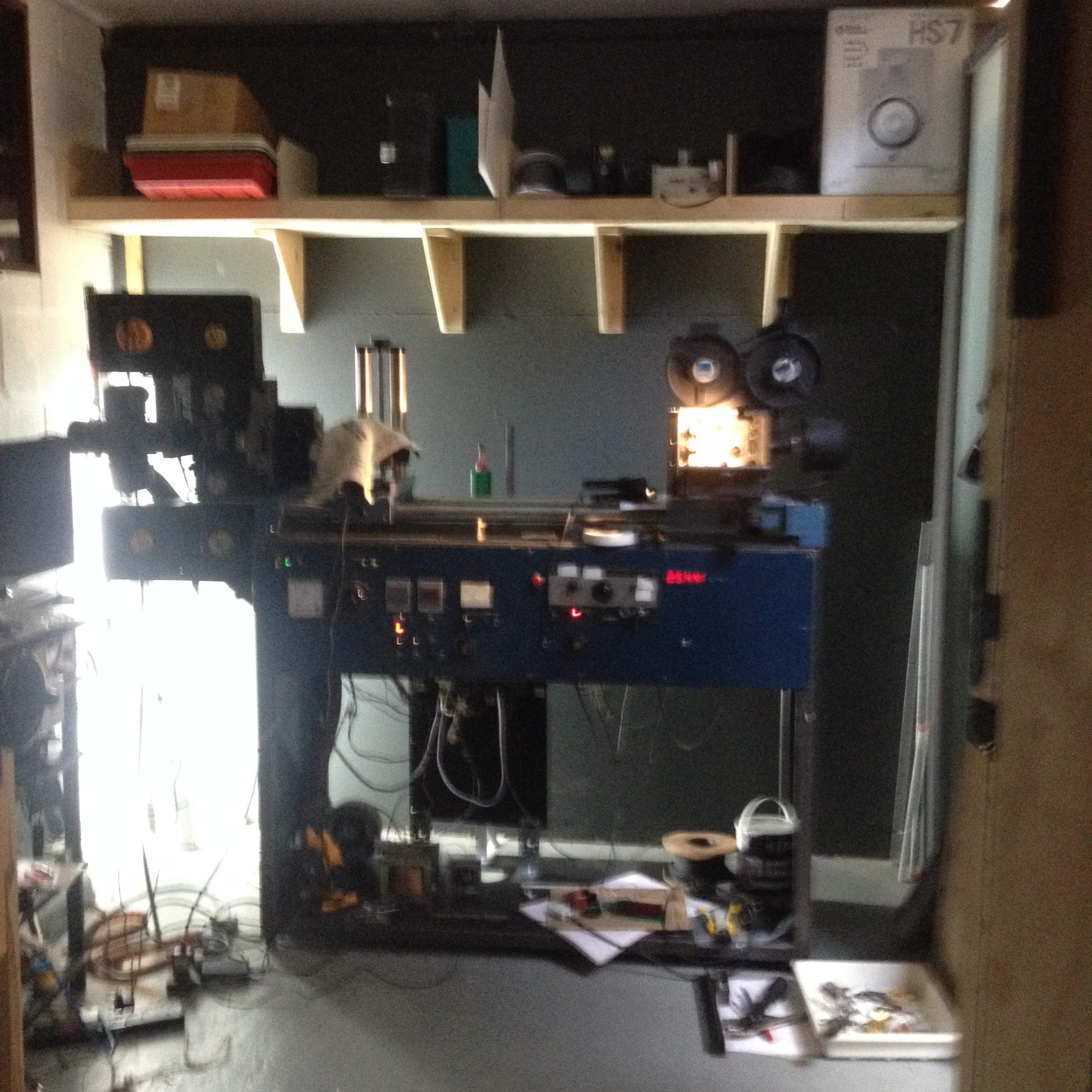 Been spending a lot of time on the Oxberry making the digital scanning set up work better. Test results are good depending mainly on the res of the scans, high res just means more processing later to compile photos into moving image sequences. I'm doing some studio tours in July as part of the Cinema Rediscovered Festival . In these …
Continue Reading...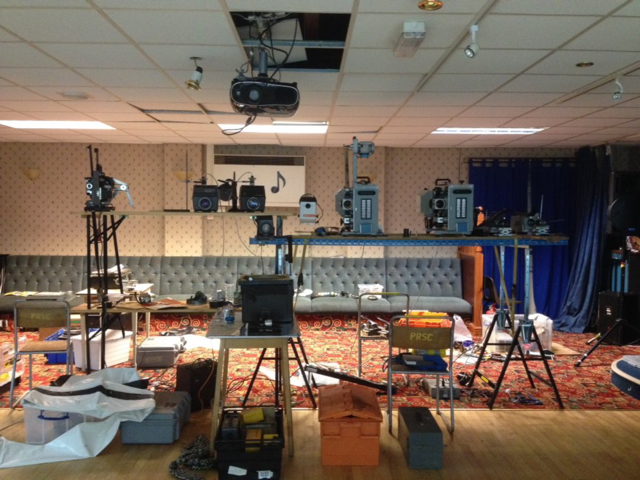 So me, Rod, Hoppo and Richie managed to pull off our performance at BEEF and Brunswick Club Saturday just gone. I thought I'd write up a breakdown report of all the techniques, projectors and processes we devised and used. This is is aimed at myself as documentation but also, as I believe in the spirit of open source and sharing, …
Continue Reading...
New 35mm gate from BB list, at first was loose and I was worried that perhaps a spring was missing. But I undid the film transport frame/sprocket and relocated the frame into its proper place. Now running like a dream. Need to fix take up motors on camera now………..
Continue Reading...